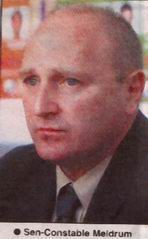 ~WODONGA POLICE~ This LINK is for Victorian POLICE, especially from WODONGA, (which is across the border from Albury in NEW SOUTH WALES), and their Underhand tactics, and Detective DARYL MELDRIN.
As the information I have at moment is incomplete, i will wait until I have more, but I will say one thing, NEVER go to WODONGA Police station, if you are being asked to go there because they wish to talk to you, what they WON'T tell you is that once you go there,
They will FINGERPRINT YOU, (by force if necessary) and TRY to take your PHOTOGRAPH when you're not LOOKING. This is how Detective Daryl Meldrum OPERATES,

THE SUPERINTENDANT at Wangaratta, (Wang, is a City some 70Ks South) said that; "I am satisfied that the police member did not act in an illegal or unethical manner".
Lets look at procedures taken by Daryl Meldrum from WODONGA CIB.
First he calls you on phone to go there, then if you don't wish to go he threatens you with arrest. If you don't go, he then says "its a serious matter", "and they wish to interview you on tape", and that it will only take 5 minutes.
What he doesn't tell you is that he will keep you waiting up to an hour before interview, even though you might give him enough time to prepare what it is he has to prepare, ("Police use this practice, to Keeping you waiting so that you will get more nervous, worried, and will no doubt work in their advantage.)
You may inform him of any conditions that you may have, but when you get there, he Has nothing prepared, makes you wait for a long time, gets pist off because you don't have any comments, and tries to trap you , then asks to fingerprint you, this was NEVER discussed at any time prior, not even disclosed to a solicitor, he then hands you a leaflet, to inform you that if you refuse, they will use force to get your prints, Basically you are threatened into doing what they want, then he gets a digital camera, and says, now we need a photograph, and proceeds to take you're picture without your consent, and while you're walking in the room, or as you turn around, is this POLICE practice? I don't think so,
Deceit, dishonesty, or incompetent, this is an abuse of Power, and malicious prosecution:
This poor excuse for a Dick, has cost taxpayers approximately $40,000.00 Aus to have a speed related matter go to a district court in front of a judge and jury and tried to have a conviction of Perverting the cause of Public justice But the Jury found it NOT GUILTY (you Dog)
before actual Court hearing, a Judge in Shepparton Suggested that the Police Withdraw the charges, but Melodramatic wouldn't have it, he had to cost the taxpayers Money, one wonders what his Motivation was/is.
UPDATE
WELL, this Matter went to District court, Being Charged with (~Perverting the cause of Public Justice~) AND of (~using a false document~) The hearing was held in WODONGA VICTORIA in front of a FULL Jury, It was more like a circus, I was kept in the back part of the court, in a sort of a bay, watched by a POLICE And with several more in the doorway,
The hearing was like a Play chapter, with the prosecutor at every chance bagging me, And making things up as he went along for good measures, his imagination was very Realistic, making me sound as if I had Killed someone, >BR> Eventually after 1, 1/2 days of totally a waste of time, and about $50,000.00 Cost To the Public of Victoria, I was found NOT GUILTY on the Charge of Perverting the cause of Public Justice, But unfortunately, found guilty of 1 count of using a false document:
This Document was a Speed Camera Photo, which couldn't be faked but I did it anyway, It wasn't Possible, the Expert said in Court:
Well, the Police went all out to get a Conviction at any cost, they had people from Melbourne up for Expert witness, they couldn't even conveniently remember things, Or that I hadn't even received the original fine in the first place, But only received a Fine for not paying the fine and the Original fine,
I rang Office on 3 occasions, to send me Original, but was instead told that the MAIL was my problem, When I didn't pay the Fine + another fine for not Paying first one, I elected to go to court, Soon after I received a Summons, and before Court date I received a Photo,
TOP RIGHT HAND SIDE blacked out, With NUMBERS IN RED stating date time and speed, I got Legal ADVICE, from Coll Becker a Chamber Magistrate in Albury, And was told that I could do as I wanted with my photo, I wanted to prove that the SPEED CAMERA PHOTOS could be altered, And How could anyone Know what speed they were traveling some 4 Months after the event,

Anyway, on going to Magistrate Court, everything got out of hand, I wasn't allowed to tell what I did, and why, as Every time I stood up To tell the magistrate the truth, I was told to SIT DOWN
After being told 2 times to SIT DOWN, I wasn't going to argue, Eventually the fine was Dismissed,
ALONG comes the TROOPER DARYL MELDRUM: the top detective in Victoria, I have to wonder why he wasn't sent to find OSAMA BIN LADEN, I am sure he can sniff him out, Anyway, this Little Prick, calls me to go to Wodonga station on the phone, early One morning, I flatly refused, so he calls again a couple days after, Again I refused, and then he calls again said it was serious, And he would arrest me, I told him to do what he felt he had to do,
He then rang again and told me what it was about, sort of, I called a solicitor, And the Solicitor rang Meldrum, he was told that they wanted to interview me on tape, And it would only take 10 minutes, What CRAP....
I called him and gave him a few hours notice that I would go, but would say nothing, On arriving, at station, he kept me waiting at a poky little place for over 1 hour, Eventually I had enough, I wanted to leave,
BUT unknown to me, ANYONE WHO GOES TO A POLICE STATION IN VICTORIA< > IS AUTOMATICALLY UNDER ARREST:
My Advice, NEVER go to ANY POLICE station without a SOLICITOR, and Don't go If you're asked to, NEVER give the POLICE any information about anything at all, Don't do their Work for them, Let the Mongrels earn their dirty money,
NOTE THAST I AM MAINLY TALKING ABOUT TRIVIAL MATTERS, AND NOT REAL CRIMINAL THINGS, LIKE: Murder, Robbery, or anything bad, if you Know of any really BAD things, Please do inform POLICE:
Well, I have discovered that MONEY can and WILL get you Justice, No Money, No Justice, the Law works that way, If you can't afford Legal Representatives, you will get Done over, I was told that I could appeal the decision, because I was FOUND NOT GUILTY, On the serious Charge, But because of LEGAL Complication, as Jurors, Do not have expertise in Law, I was found guilty on the BACKUP charge,
I was told that I shouldn't have been found guilty at all, but to fight at an appeal, It will cost too much for me, at this time, No Money No Justice:
EVEN the Local Newspaper ran a bull, and Shovel Story on the event, They wrote what made sensation, and made it look worse than what actually happened, And when I called the Newspaper to tell them what really happened, They didn't want to know, or didn't care, Because if they write the truth, POLICE will NOT disclose any stories to them, Or they will be hesitant to tell the paper stories, or what is coming up in Court, REAL JUSTICE < > I wonder who gets the kick backs,
MELODRAMATIC, it soon will be my turn,


MY TURN HAS COME FINALLY
UPDATE
ON 14th FEBRUARY 2006 AN APPEAL WAS HELD IN COURT OF APPEAL SUPREME COURT MELBOURNE:
AND IT COST VICTORIAN'S TAXPAYERS OVER $55,000,00 MELDRIN MUST REALLY FEEL GREAT,

NOW THE FUN BEGINS
3 JUDGES DETERMINED THAT MY APPEAL WAS VALID AND QUASHED PREVIOUS JUDGE DECISION IN WODONGA, (JUDGE AND JURY OF 12)
MORE LATER: WHEN EVERYTHING UNFOLDS FOR "DETECTIVE MELDRIN" AND THE DEPARTMENT OF CORRECTIONAL SERVICES IN WODONGA VICTORIA

MAY YOU FEEL JUST THE WAY YOU MADE ME FEEL FOR LAST FEW YEARS